Yamada is a first year student at Fujou High School and a member of Game Creation Club.
Personality
Edit
Despite his big posture, Yamada in fact is a kind person, occasionally seen with a small bird to describe his affection nature. He wasn't angry after Kenji punched him brutally.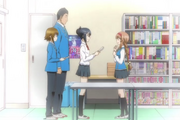 Back then when Takao trying to raise her club, he along Sakuragaoka and Inada decided to join Game Creation Club.

Just like other characters' in D-Fragments series, their names are reference to railway stations in Japan. His name is derived from Yamada Station (Tokyo).